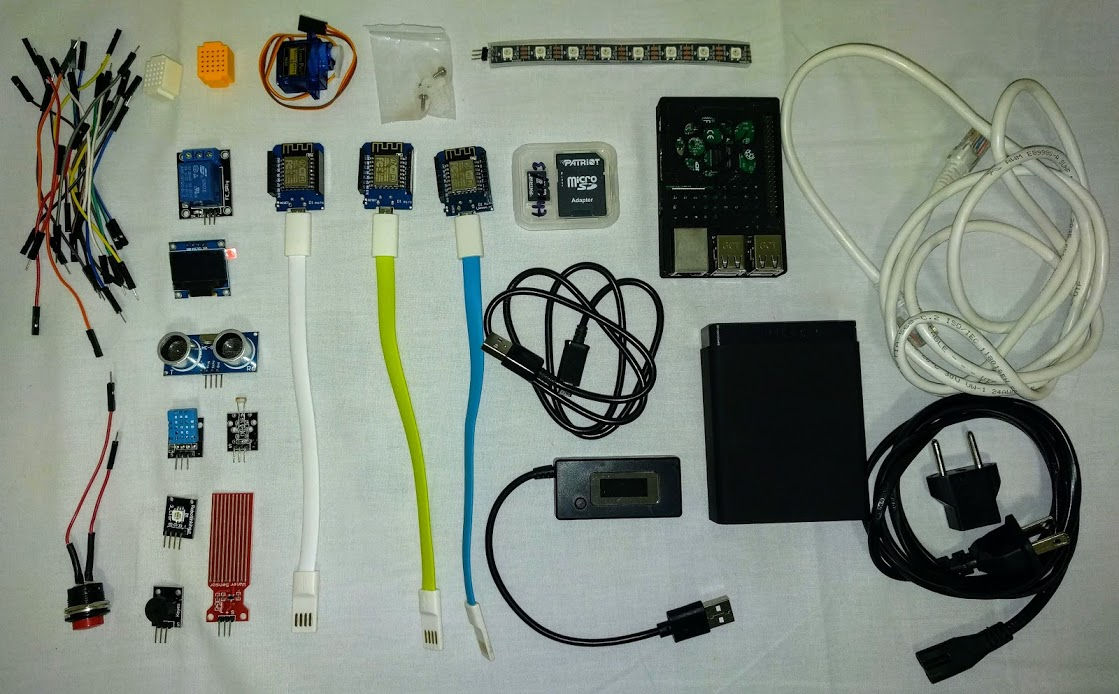 Make sure to also check ou this running document with links to buy components of the kits I use: link to google document
As a bare minimum you should have at least one Raspberry Pi 3 with SD-Card and strong (2.5-3A) power supply, three (better 4) ESP8266 based development boards (like the Wemos D1 mini or NodeMCU), and several Arduino sensors (like button and temperature) and Arduino actors (leds, maybe rgb-LEDs or strips, and a relay or a small servo motor).
The depicted kit contains the following:
1x Raspberry Pi 3 with 3D-printed case
1x class 10 16GB SD-Card
3x Wemos D1 mini
3x short micro USB cable (for connecting Wemoses to power)
1x medium long micro USB cable (for connecting Pi to power)
1x multi USB power supply, power cable, and US/Europe adapter (with 2A per port) to power Raspberry Pi and the Wemoses
1x ethernet cable to connect Raspberry Pi to Ethernet port to have Internet (can alternatively use a tethered connection from a phone plugged into USB)
1x USB power meter to see voltage and amparage
20x dupont jumper cable (mostly male-male connectors, maybe some female-female connectors)
2x mini bread boards
1x simple contact button
1x small servo motor (i.e. Tower Pro SG90)
1x WS2812 LED-Strip with 8-10 LEDs
1x Relay
1x Small I2C Display (i.e. SSD1306)
1x distance sensor (i.e. HC-SR04)
1x temperature/humidity sensor (i.e. DHT11)
1x light resitant diode
1x RGB-LED
1x water/rain-Sensor
1x buzzer
I would love if any company could assemble this kit for me, please contact me if you could - feel free to link to my IoT classes.